Digital and logistics infrastructure
Infrastructure serves as the essential backbone of our interconnected digital world. Solve complex data network, data storage and processing and logistics challenges with the leader in Nordic sustainable infrastructure. Bulk Infrastructure delivers long term solutions to global organisations with the lowest total cost of ownership.
As an industrial infrastructure developer, Bulk operates through three core business units: Data Centers, Fiber, and Real Estate. Each unit is united by a common vision: the development of sustainable infrastructure on a worldwide scale. In the face of the urgent global sustainability challenge, this race towards sustainability is one we cannot afford to lose.
The Partner of Choice in the Nordics
Value
We help customers achieve long-term benefits by building and operating future-ready, efficient infrastructure. Our end-to-end solutions include everything from finance to construction to operations.
Innovation
Bulk challenges traditional thinking and seeks new ways to solve difficult problems. Our team has decades of experience in establishing and operating digital infrastructure and industrial real estate where it never existed before.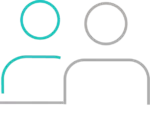 Partnership
Bulk has built strong customer and partner relationships on our ability to deliver first-time solutions for new infrastructure, in complex environments with guaranteed results.
We are dedicated to our vision - racing to bring sustainable infrastructure to a global audience